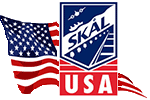 SKAL INTERNATIONAL NASHVILLE


International Association of Travel & Tour Professionals
Club 418

,

Established 1975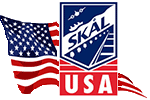 History
Skal International is a worldwide organization for tourism professionals. The first club
was founded in Paris in 1932 by travel managers who had completed an education tour
of Scandinavia. Their goal was international goodwill and friendship.
Today, with approximately 17,000 members in 80 nations, Skal International connects
tourism leaders who promote global tourism and friendship. It unites all branches of the travel and tourism industry.
Skal International Nashville
Skal International Nashville was established in 1974 and chartered in 1975. It is club number 418. It began as Nashville was emerging as a major convention and leisure tourism city. Its early presidents included airline executives, hotel general managers (including the general manager of the nation's largest non-gaming hotel) and leaders of the convention and visitors bureau.
The club was the host of the 1996 meeting of Skal International USA, which drew hundreds of Skalleagues to Music City for activities that included special recognition at the Grand Ole Opry, the longest-running radio show in broadcasting history. Some years later, one of the club's most memorable officer installation banquets occurred on the Opry stage.
A legacy of the 1996 Skal International USA meeting is a scholarship fund that continues to support young people from Nashville and Middle Tennessee who are pursuing educations that will lead to careers in hospitality and tourism.
Today's Activity
Skal International Nashville meets the second Monday of the month except for July. Meeting locations vary, allowing Skalleagues to stay up to date on venues in a thriving visitor city.
The Skal Toast
Even though each meeting is in a different location, there is one constant – the Skal toast.
A member will find an appropriate moment, get everyone's attention and proclaim, "A toast! To fellow Skalleagues everywhere . . . happiness, good health, friendship, long life! Skal!"
And as a true Nashville touch, someone always chimes in with, "Skal, y'all!"
In Memorial
In memory of Nashville Skalleagues in no particular order with past Presidents in bold. These members are
a virtual Who's Who, of the Nashville Travel and Tourism history.
Bryce Yarbrough, Tom Price, Bernie Krohn, Tom Owen, Jack Vaughn,
Dr. Hugh Claughton, Harold Gaines, Chris Levering, Dick Kinney, Paul Cohn,
Henry Rather, Wally Nichol, Orion Dickson, Van Drummond, Kent Hampton,
Ralph Bryan, Glenna Boyd.